Getting an Internship at a Big 4 Accountancy firm can be the kick-start you need to be on your way to a long and successful career in accountancy.
My first job in the accounting world was with a Big 4 firm, and while it didn't turn out to be my forever job, I still credit it as an essential path creator in my career to this point.
During my time at the Big 4 firm, I was heavily involved with helping HR to interview potential hires and future interns, so I know exactly what goes into the process for selecting an intern, and what the Big 4 firms are looking for.
I've put this post together in order to share my tips and advice on how you should plan out your path to get a job or internship at the Big 4 straight out of University, and how you can set yourself apart from the competition.
The advice mentioned within this post are pieces of information I have gained from personal experience, as well as the experience of many others who I have seen come through the steps of working in Big 4 Accounting.
Timing is essential. Try and find out the internship period for the Big 4 office which you would like to get your internship in. Many of the larger offices will begin their search long before the internship begins, and the longer to leave it, the less your chances will be of getting a position there. If you want to increase your chances, then try to apply to smaller Big 4 offices which are a little more off the beaten track. If you can move away from home for a period during your internship, then do so! I would recommend messaging a member of HR in the office you want to join on LinkedIn, and find out more information on when they will be looking for interns. Make sure your LinkedIn looks good before messaging them!
Networking. I would always recommend actively networking throughout your career. However, it is even more important when you are trying to land a lucrative internship. Attend networking events in your local area – these will often be set up by your University. Make sure your LinkedIn is up to date with important information, and then add anyone that you spark up conversation with at these events. Knowing someone at the firm before you apply/interview can increase your chances of receiving an offer significantly. These people can often put a good word in with HR, which is likely to help you out when compared to a similar candidate without the networking back-up.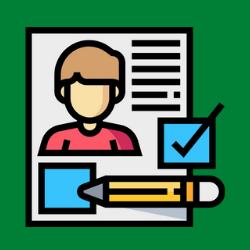 Resume/CV. It is essential that you have an attention grabbing, yet professional CV. I would recommend speaking to specialists on CVs, and your University will likely have one. Have as many people as possible read your CV, especially if you know someone who is in an HR or managerial role who has experience with hiring individuals.
I would keep your CV as concise as possible, but still telling the reader everything they need to know about your experience to this point. I would never exceed two pages on a CV. No matter how insignificant you may think your work experience is, add it to your CV. Also make sure you include interesting hobbies that you may have.
Interview Prep. It is incredibly important to be prepared for your interview. I personally like to do a lot of research on the company I will be applying for. I will create a mini 'dossier' of sorts when I am applying, where I will try and think of as many questions I can think of about the company, and answer them in this booklet. That can be anything from "Why do you think you will be a good fit here" to the generic "What do you know about this company". Google common interview questions, and try and have an answer semi-prepared for each question. Practice answering questions off the cuff – you don't want your answers to sound too pre-prepared, but at the same time, you want to be prepared. 
Interviews are difficult, and you generally get better at them the more you do them. If your University offers it, try and do some mock interviews, or ask your friends or family to try and interview you to get some practice. Although I generally find it more beneficial if a stranger interviews you for practice.
Post-Interview Follow Up. Once you have had your interview, make sure you get the contact details of your interviewer – you will want to follow up with a thanks for their time after the interview. Some people suggest sending a hand written note, but I gennerally prefer email. While something hand written does make you stand out more, it can do so for the wrong reasons. It is generally not the norm to send hand written notes these days, and you don't want to somehow be labelled as the "odd" person they interviewed.
Keep it simple, and maybe mention something that you discussed within the interview, and simply thank them for the time that they took out of their day to interview you.
Hopefully after taking these tips on board, you will have had your first interview (and I hope it went well!). If successful you will either receive an offer for an internship, or a full time job!
I should also note that many of the Big 4 Accounting firms will offer internships to younger individuals who are still in school (around 16 years old). If you're in this age bracket and you have an interest in the world of accounting, then make sure you reach out to an HR representative in your local office and see if you can obtain more details on how you could apply.
How to be Successful After You've Obtained your Big 4 Accounting Job
Here are some pieces of advice once you have landed that job. Unfortunately it isn't plain sailing from this point, and in order to really maximise your opportunities, you should take these tips on board.
Have a positive attitude. There is nothing worse than the grumpy/angry person in the office. Some higher up individuals can get away with it, as they've spent many busy seasons there, and people generally know them better than the grumpy exterior they portray. However, if you're new at the company, make sure you show your positivity and willingness to perform well for the firm. The work won't be great for an entry level person, but try and keep your chin up and appreciate that you will get more opportunities after you gain more experience.
Strive for Excellence. Always try and perform to the best of your ability. Never hand in work which hasn't been at least checked over for small errors. As a manager, the last thing I want to do is to go back to the junior to get them to correct some silly mistakes which would have been picked up from a quick review. Try and make sure you're really trying to perform at your best, and it will be noticed. Even if you're not neccesarily performing that well to begin with, your effort and input for improvement will really be noticed.
Ask Questions. Make sure you ask as many questions as you possibly can. Of course, make sure they are important and relevant questions. However, don't bottle it up. If you're not sure about something, or you would like more detail about something, then ask your line manager. They will be pleased that you're trying to gain a better understanding of the job, and normally those individuals who ask a lot of questions when they first join, end up being the top performers in their year-group once everyone has become a qualified accountant. Also make sure you take notes when the question is answered, so that you don't have to ask the question again in the future, as this can be frustrating for a manager.