Best Laptops For Accountants – 2020
I am an accountant, and throughout my history to get to where I am today, a computer or laptop has been a key part of my arsenal. Whether you're an accountant now, or an accounting student, you likely spend a large amount of time looking at a screen working with spreadsheets, looking at numerical breakdowns or even the ocassional Powerpoint Presentation.
If you're currently an accountant, you will understand me all too well when I say that a Laptop which can't handle the load of an excel document can lead you to insanity. The amount of times my excel sheet has randomly frozen, or crashed my laptop and caused me to lose data – it has happened more times than I can count.
In other words – Not only is a good laptop essential for the efficiency of your job, but it is essential for your own sanity while doing your job.
You will likely need a laptop which you can easily take anywhere with you. Accountants are regularly going to the client offices, or travelling, and accounting students will need to take their laptop with them to their classes and seminars.
Despite the size, you will also need for the laptop to be snappy and deal with large files to be opened at any given time without any crashes.
In this article, I am going to break down 7 of the best laptops for accounting (available in 2020). I will go into detail on why I believe they are the best options, as well as their specifications.
Features of a Good Laptop For Accounting Work
There are some basic specs which you will want to look out for when selecting your laptop. These specs may differ slightly depending on your specific requirements. All of these laptops will be good options for you, whether you're a fully qualified accountant working in the field and running your own business, or you're a student sitting your exams.
Some specs you will want to look at:
Screen/Display
This will very much depend on how much you plan to travel with your laptop. Personally, I prefer a 15 inch laptop if I was forced to work on the laptop. In this day and age, you can get a very thin laptop, even when they have a larger screen. However, saying that, I mostly plug my laptop into an external monitor whenever I can.
So, this spec requirement will depend on your preferences. I know many people will prefer a smaller screen in order to maintain portability.
Weight/Size
I would argue this is even more important when it comes to how portable your laptop is. You could have a 15 inch screen brick, or a laptop which is incredibly thin and light.
It is rare these days to get a laptop which is really thick. However, some are definitely heavier than others. You also need to factor in whether the charging cable is going to weigh you down as well.
Keyboard
This is very personal. People generally have their own ideas on what makes a good keyboard. However, some keyboards will have more functions than others. For example, I couldn't live without a num-pad as an accountant. However, others are happy to use the top bar for entering numbers. You could also get an external num pad that attached via USB.
Generally speaking, if you want extra features like a num-pad, you are not going to find it on a smaller 13 inch laptop. You will have to go to at least a 15 inch laptop in this case.
Battery Life
Battery life is essential. There are times you won't be able to plug your laptop in, and you will have to rely on the battery. If your battery only lasts 1 hour, it is likely going to die on you. There's not a worse feeling than forgetting your battery is close to dying, and not saving your work. Then blip. Your work is gone!
CPU
This is the processor for your laptop – It is what will keep everything running. Think of it as the brain of your laptop. If this isn't good enough, you're likely to see lots of crashing and slow loading times.
RAM
This will help with multitasking. I know that I often have at least 5 different excel sheets open at any given time. I would say 8GB is an absolute minimum based on the workload of your average accountant.
Storage
This will depend on where your files are stored. Mine are mostly on a cloud server, so it isn't too much of an issue to have lots of storage. However, my main storage on my accounting laptop is an SSD, which allows for files to load quickly.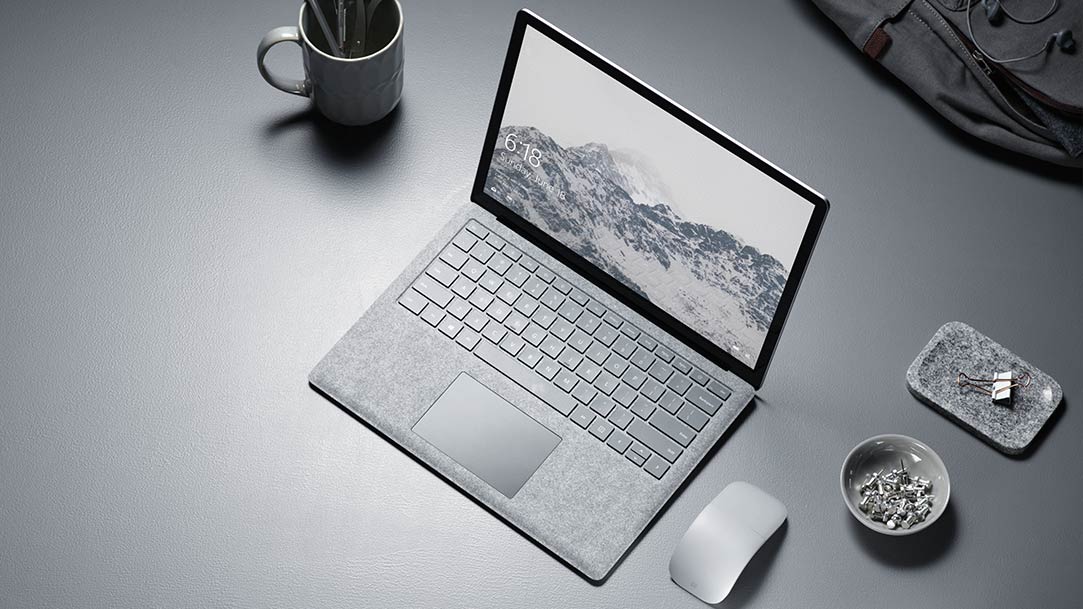 Top 7 Laptops for Accounting
1. Surface Pro 6
CPU: Core i5
 RAM: 8GB RAM DDR3
 GPU:  Intel HD
 Memory: 256GB SSD
 Screen: 12.3" full HD 1080p
 Weigh: 0.77kg
 Battery Life: 11 hours
The Surface Pro 6 is a bit of a unique one on this list.. It is pretty much a tablet, rather than a conventional laptop, but it has a keyboard attached to it.
If you're looking for a laptop to work with, and you travel A LOT, then this may be the choice for you. It is the most portable option on this list, but still has the specs required to comfortably deal with whatever your accounting role will throw at it.
2. Dell Inspiron 3000
 CPU: Core i5
 RAM: 8GB RAM DDR4
 GPU:  Intel HD
 Memory: 256GB SSD
 Screen: 14" full HD 1080p
 Weight: 1.2kg
 Battery Life: 10 hours
I've always been a fan of Dell build quality. I've found they're often built more solidly than comparable brands. This means that when it gets banged about in a bag when moving from the office to the client, it can withstand it.
I wouldn't say this is the best 'bang for buck' laptop on this list – However, it is still a good choice to consider!
3. ASUS Zenbook UX333
 CPU: Core i7-8565U
 RAM: 8GB RAM DDR3
 GPU:  Intel HD
 Memory: 512GB SSD
 Screen: 13.3" full HD 1080p
 Weigh: 1.08kg
 Battery Life: 11 hours
You get a lot of laptop for your money in a small package here. This is going to be your best option if you want a smaller sized laptop, with a lot of punch. You get an i7 processor, so you're not going to have any issues managing to deal with those large excel spreadsheets.
The laptop also comes with a nice leather style sleeve, which I think is quite a nice touch and makes carrying to laptop around a little more pleasant.
This also comes with quite a large SSD, so you're unlikely to ever run out of room on this one within normal usage.
4. Dell XPS 13
 CPU: Core i5-8250
 RAM: 8GB RAM DDR3
 GPU:  Intel HD
 Memory: 128GB SSD
 Screen: 13" full HD 1080p
 Weigh: 2.7lb
 Battery Life: 11 hours
This is the big brother to the previously mentioned Dell. The screens on these modern day XPS laptops are a real joy to look at. It almost makes scrolling through huge spreadsheets a pleasure…almost
You get plenty of upgrade options here depending on what your budget is. The base version is more than powerful enough, but you may want to upgrade if you think you need more space, or would like one of the ULTRA HD displays.
5. HP Pavilion 15-cw1012na
CPU: Core i5-8250
 RAM: 8GB RAM DDR3
 GPU:  Intel HD
 Memory: 128GB SSD
 Screen: 13" full HD 1080p
 Weigh: 2.7lb
 Battery Life: 11 hours
I used this HP laptop during my time at a Big 4 firm. It was surprisingly well built, and was very easy to cart around when I was visiting the client.
My only critique is related to the durability. It was very easy to scratch and mark the outer-shell of the laptop when taking it in and out of your bag on a daily basis. Admittedly, this had no impact upon its performance, just how it looked.
6. 
ASUS TUF FX505
CPU: Core i5-9300
 RAM: 8GB RAM DDR4
 GPU:  GTX 1650
 Memory: 512 NVMe SSD
 Screen: 15.6" full HD 1080p
 Weigh: 2.2kg
 Battery Life: 8 hours
I think this could be the best bargain on this list. You get a boatload of power, and you also get a num-pad included. This is the laptop you want if you want to use your laptop at work and at home. The ASUS TUF comes with a graphics card, so if you're an accountant, but also into gaming – this is perfect!
Due to its bigger size, it is quite a bit heavier than most on this list, but it has a larger screen, and can also be upgraded to a 17.3″ option too.
As mentioned, it comes with a numpad on the keyboard, and I think this is essential for me personally. Once you've had one, I don't think you can go back.
Also has a 512gb NVMe SSD – This is a hyperspeed memory storage option!
7. 
Acer Nitro 5
CPU: Core i5-9300
 RAM: 8GB RAM DDR4
 GPU:  GTX 1660Ti
 Memory: 128GB SSD & 1TB HDD
 Screen: 15.6" full HD 1080p
 Weigh: 2.26kg
 Battery Life: 9 hours
Similar to the ASUS above – but may suit you more. Take a look at the specs and the pricing, and see which is more your style. I personally prefer the look of the Acer, but the Asus is likely better value.
Conclusion
I hope this list has been informative and helpful for you. In order to get the best laptop for an accountant, you need to really decide exactly what your requirements are. Any laptop on this list will be good, but in order for it to be perfect for you, I would recommend taking notes on what you're looking for. What are your needs and wants, and then it should be obvious which laptop is the best choice for your accounting career!
There is some fear in the world of Accounting that as employees we may become obsolete in the future as automation and artificial intelligence becomes more of a significant tool in the workplace. I wrote a post which you can view here, which discusses the reasons that...