Is TUI Likely To Go Bankrupt? Here is What You Need To Know…
Coronavirus Impact on TUI
The Coronavirus pandemic hasn't just impacted TUI, but the whole travel and tourism industry as a whole. There are very few areas of this industry able to function at all. This is why for the most part, all of TUI's travel has been cancelled for the foreseeable future (until June 11th as of this post). However, these cancellations are likely to continue.
The issue isn't in that TUI doesn't want to take you on your holiday, the issue lies in that many airports and hotels are closed, and there are many border control limitations on entering a country.
For example, I was supposed to travel to Mexico this summer, but the hotel I was staying at has closed until July 1st, and Mexico are not currently letting holiday travelers enter the country, for obvious reasons.
Due to the ongoing situation regarding COVID-19, the Foreign and Commonwealth Office have advised against all but essential travel. Unfortunately, this means that we're no longer able to offer TUI holidays travelling on or before 11 June 2020 and Marella Cruises sailings travelling on or  before 30 June 2020. We've also made the difficult decision to postpone the launch of TUI River Cruises until 26 November 2020. – TUI as of 16/05/20
Who Owns TUI Group?
Many of us aren't aware of it, but TUI is actually a German company, headquartered in Hannover. I had spent a long time thinking that TUI was English.
TUI was already having a bad time of business heading into 2020, so the latest roadbump being caused by COVID19 definitely isn't going to help their current business position.
When Will Likely TUI Travel Next??
This is an incredibly difficult question to answer, as things are changing on an almost daily rate. The current situation from the TUI camp is that they're claiming they expect to be travelling from the 11th of June onwards.
The problem here is that TUI are being overly optimistic, both from a business standpoint and a legal standpoint. If they came out and said it is unlikely they will travel until August, then they would be forced to issue refunds to all of their holidaymakers up until that date. So, TUI will be slowly moving their claimed dates as they approach.
Don't be surprised if that 11th of June date gets pushed back to July when it arrives. They have already pushed back two claimed dates for travel to begin as normal.
TUI Travelling will likely depend heavily on where you are travelling to. It is highly unlikely that all countries will accept travellers straight away and at the same time. Every country in the world is battling the fight against Covid-19 at a different rate. New Zealand are in a good position, but somewhere like Mexico is currently still growing.
Greece have claimed that they expect to see British tourists soon, but whether that will actually materialise is yet to be seen.
A key factor here is how the UK's current virus situation progresses. They are currently slowly coming out of lockdown, and if they manage to keep control over the virus, we may see more travel. However, even simple things like eating in a restaurant are not possible. International travel is going to be one of the very last services which open up properly.
If I were to guess, I don't think we will see normal travel resume until 2021. We have not seen much progress in terms of travel of any form opening up in recent months, and even countries which are far further ahead in their progress have not opened up any major travel services.
"Should I Take The TUI Refund Credit?"
TUI are no longer offering cash refund straight away. Instead, they are offering what they are calling a "Refund Credit". What this essentially means is they are giving you a voucher with up to a 20% bonus on your original spend to book another holiday with TUI.
Whether or not you should take this depends.
Firstly, are you likely to want to travel? It is possible that travelling won't commence for a very long time. It is understandable that you may not be confident about when to book your holiday next, and therefore would rather get your money back.
The Refund Credit being offered by TUI is valid for 12 months, after which, if you haven't spent it, you will get your cash back.
It is also possible that the price of the holiday you wanted has shot up in price for the same time next year. This was the case for me when I went to rebook my holiday to Mexico. The 20% addition to the credit didn't even cover the increase, so I opted to get my money back in this instance.
I was in a bit of a predicament, because I knew that I would be helping TUI by taking the Refund Credit and rebooking my holiday. However, I also didn't want to risk losing the full value of my holiday, or end up in a situation where if TUI did go bust, I was left waiting to reclaim my money for a long period of time.
Due to the amount of money which had to be rescued when Thompson went bust, the current reserves for reimbursement are very low. Therefore, it is likely that any refunds would have to come from tax payers. This obviously wouldn't be good.
I tried to get in contact with TUI about 15-20 times in order to obtain my Refund Credit after my hotel was announced as being closed during the time of my holiday. However, despite being on hold for an hour each time (or not even being able to get through to the queue sometimes), I was unable to get through to talk to someone.
Then, on the 29th of April TUI announced that holidays up to the 11th of June were being cancelled, so I knew they would likely get in contact with me, as my holiday fell into this category. However, I still didn't hear anything.
Technically the law in the UK is these companies should be refunding you within 14 days, so I gave them a chance of 14 days from the 'official' cancellation message from their end to get in contact with me. However, still heard nothing.
It was at this point that I gave up and spoke to American Express in order to get my money back. I really tried to keep my money with TUI to help them in this terrible time, however, they didn't make it easy.
I would always recommend paying with Credit Card in these scenarios.
So to answer the question, should you take the Refund Credit from TUI? It depends what your current situation is. If you book with the Refund Credit, you are still ATOL protected. I wouldn't hold onto the Credit unspent though. If you want your money back, just get it back. Whether the unspent credit is also ATOL protected or not is a bit of  a grey area currently.
How Do I Get a Cash Refund with TUI?
You have two main options in order to get a refund on your TUI holiday.
Firstly, the easiest option is if you have booked your holiday on your Credit Card AND TUI has announced that your holiday has been cancelled, you can contact your Credit Card provider for them to reverse the payment. They will likely attempt to get in contact with TUI before they issue this.
It took less than 24 hours for American Express to reverse my payment, and for it to credit my account.
The important factor here is that your holiday needs to have been officially cancelled.
Secondly, once you receive your Refund Credit email from TUI, you can apply to turn that into a cash refund. However, it should be noted that TUI are taking quite a while to issue these refunds currently.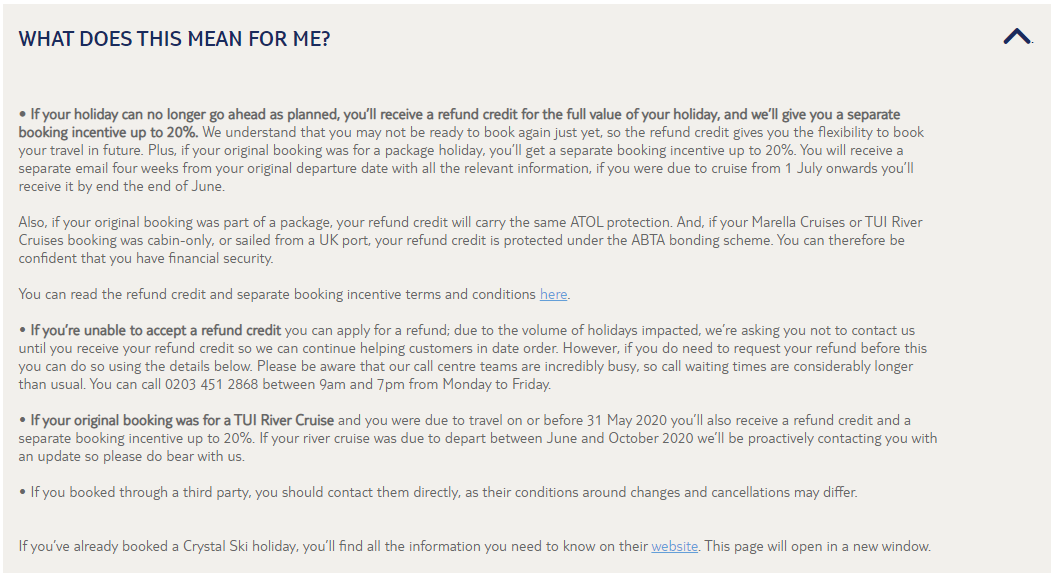 Should I Rebook My Holiday? If so, When?
If you are going to rebook your holiday, I would limit your risk and push it back into 2021. The further away, the safer you're likely to be.
Only you will know if you should rebook your holiday. But I definitely wouldn't rebook for anything earlier than September 2020 – as we're unlikely to be able to travel freely before then.
So, Is TUI Likely To Go Bankrupt?
This will depend on how far the German Government is going to help. They have already announced that they plan to help companies like TUI if they become in need of some cash injection. However, we will have to wait and see as to whether TUI will need this.
Their current business plan is to try and keep as much cash in the business as possible. This is why they are offering the 20% incentive on the Credit Refund option. This will allow people to rebook their holidays, and allow TUI to keep onto their cash without a refund.
However, it depends how long this goes on for. I imagine over time with more cancellations, fewer and fewer people will opt for booking another holiday and will prefer to receive the safety of their cash back.
So, in summary, if many cash refunds are issued, then we may see them slip into a liquidity issue, and they may need help from the Government. If the Government aren't willing to help them, then this is when we may see TUI go bankrupt.
As TUI holidays are ATOL protected, if this did happen, everyone should get their money back. However, in this current climate, that is likely to be delayed. I imagine if TUI were to go bust, many people wouldn't see a return of their hard-earned cash until well into 2021. 
The whole knock-on effect of the Covid-19 crisis upon the travel industry could be catastrophic if/when companies start to go bankrupt. Unfortunately, I don't think we have seen the worst of it yet.
If I become aware of any key updates on this, I will be sure to update you!
Good luck!
There is some fear in the world of Accounting that as employees we may become obsolete in the future as automation and artificial intelligence becomes more of a significant tool in the workplace. I wrote a post which you can view here, which discusses the reasons that...